Purple Karma Pinnacle Whiskey
Purple Karma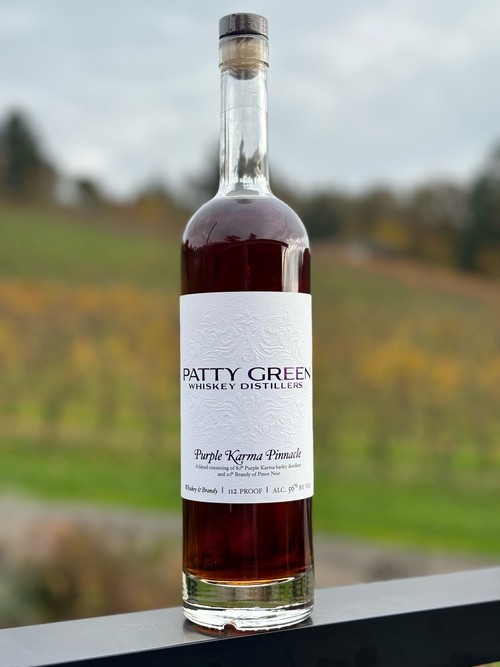 Purple Karma, Pinnacle Whiskey
$200 per bottle/6-bottle limit per customer
This is a statement bottling. A small portion of the distillation was carved out of the center of the hearts cut, separated and barreled down into 2 partially full re-purposed barrels. We would put this up against, well, basically any whiskey out there. Truly. This whiskey is definitely a sipping whiskey. The texture is liquid silk and the flavors are carried on it in a way that allow for fruit, tobacco, spice, woodsy notes and some barrel sweetness to coat the palate.
This was aged 2+ years in re-purposed Pinot Noir barrels. We are specifically NOT doing the thing that's quite trendy now to finish sprits in a wine barrel (or, god forbid, the other way around). These barrels have the heads removed and then are sanded down to remove all traces of wine. Wine only penetrates about 3\8th inch into oak staves so this is quite possible. The barrel is then re-toasted to wine barrel specifications. It is then charred to whiskey barrel levels. The two barrels this whiskey were in were #3 char. Because of the intensity of the flavor of the grain, the use of only the apex material in the distillation, the textural component the brandy brings to the whiskey and the quality of the distillation (and distiller) this whiskey showed remarkable character and complexity at just 2 years in barrel which is why we decided to bottle it at that point.
This is 80% Purple Karma grain distillate mixed with 20% of the Pinot Noir Brandy. It went into barrel at 112 proof and many trials of watering it to lower levels led us to the conclusion that the most delicious version of this rare and beautiful whiskey was at full cask strength. Ice or water to your level of satisfaction or enjoy it in its full splendor.
Purple Karma barley is an ancient Himalayan landrace variety (and it is literally purple). The term "landrace" has generally been defined as a cultivated, genetically heterogeneous variety that has evolved in a certain ecogeographical area and is therefore adapted to the edaphic and climatic conditions and to its traditional management and uses. Despite being considered by many to be inalterable, landraces have been and are in a constant state of evolution as a result of natural and artificial selection. Many landraces have disappeared from cultivation but are preserved in gene banks. Using modern selection and breeding technology tools to shape these preserved landraces together with the ones that are still cultivated is a further step in their evolution in order to preserve their agricultural significance. Adapting historical landraces to present agricultural conditions using cutting-edge breeding technology represents a challenging opportunity to use them in a modern sustainable agriculture, as an immediate return on the investment is highly unlikely, revived by the Oregon State Barley Project. This is an excellent example of attempting to show something hyper-local as Purple Karma Barley is currently only grown in Oregon and does not see much in the way of commercial use of any kind. It is renowned for being dense in texture and hearty in flavor.
We are quite positive that this is the only whiskey on earth made from the Purple Karma strain of barley. This is a one of one, a unicorn, an item that still manages to be as delicious as it is rare.
Only 37 cases of this were bottled.
Wine Specs
Appellation
Willamette Valley