2021 Medici Vineyard Pinot Noir
96 points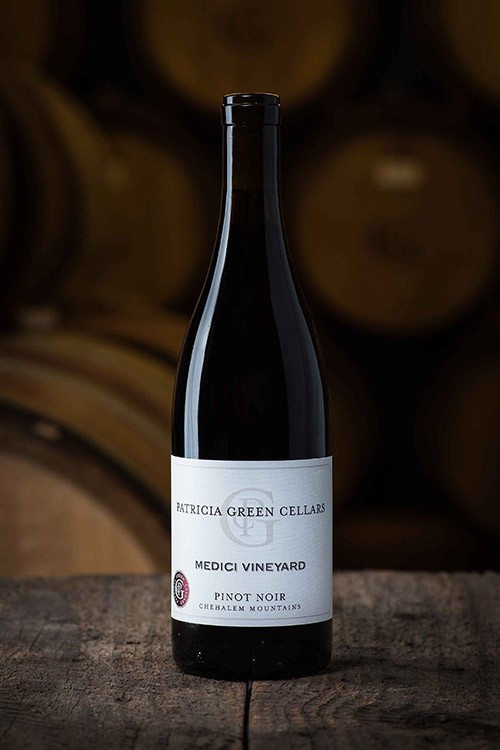 Site History: Medici Vineyard was initially planted in 1976 by Hal and Dottie Medici. At the time there were still very few vineyards planted in Oregon and most of them were in the Dundee Hills. While, by today standards Medici Vineyards being located about 1 mile east of Highway 219 on Bell Rd. is, if not centrally located in Yamhill County's wine industry, it is not seen as some out of the way operation. However, back in 1976 this steep (it's really steep) hillside was far away from most of the action. Undaunted, they planted again in 1980 and found buyers close by as wineries such as Adelsheim, Ponzi, Rex Hill and Veritas came into being in the early 1980s. Wine reviewing was not quite the industry back then that it is now but this snippet exists from way back in the day from the Seattle Times in 1991, "Rex Hill 1988 Medici Vineyard, $25: OK, OK, I know I promised more affordable Pinots. But what review can be complete without Rex Hill? I chose this one because the Medici Vineyards in the past has been my favorite among the different bottlings. It doesn't disappoint in the '88 either. From its delicate floral nose to the luscious fruit, the wine is absolutely glorious." There are a lot of things that are funny about that review at this point but the point is that over 30 years ago Medici Vineyard was seen as a top level Oregon vineyard and $25 was a steep price for Oregon wine (for context, just on inflation, that comes out to $54 in today's world). Hal Medici still owns and lives on the property and it has been planted out to about 25 acres and the original vines are all still in tact.

Site Characteristics: At a time when the Dundee Hills almost exclusively were the home to the burgeoning Oregon wine industries' initial craftspeople Hal Medici planted his first vines in 1976 to the northeast of the Dundee Hill on Bell Rd. due north of downtown Newberg in an area that is now part of the Chehalem Mountains AVA. Over the course of the next 25 years the vineyard was expanded to its current size. While it has Pinot Noir, Chardonnay and Riesling planted in it Patricia Green Cellars sources only Pinot Noir from four distinct sections. Medici Vineyard is a good analogy for what one might find in the large, diverse and far-ranging Chehalem Mountains AVA. Our other two vineyards in this AVA are largely planted in Marine Sedimentary soil. However, Medici begins at over 500' in elevation and rises to close to 900' elevation putting it squarely into the sections of hillsides where one would find Volcanic soil. And Medici is, in fact, planted in Jory soil which gives it a flavor profile more in common with our Dundee Hills' wines than wines from the same appellation just down the way on the same road.

The Blocks:
• Block 2 Pommard: This is one of the lower elevation blocks in the vineyard. It begins near what would be the bottom of the other two blocks and heads down the length of the driveway. While moderately sloped the sheer length of this block still creates a fairly significant change in elevation top to bottom. The block was planted in 1988. We get 1 acre of this section.
• Dijon 777: This block was originally planted to Chardonnay in 1980. At some point in the late 90s it was grafted over to Dijon 777. These may, technically speaking, be the oldest Dijon 777 vines in Oregon. This block rises above Block 2 heading east in the vineyard and each successive row is steeper and higher than the next.
• Pommard: This is the original planting, done in 1976. This is a very elevation point in the Chehalem Mountains AVA and, at the top, this dead south looking site towers over Newberg providing seemingly endless views over Yamhill County. The rows are painfully long. This is a rare block.

Farming Practices: In 2015 J. Christopher Wines took over the management of the entire vineyard. Organic farming practices were immediately initiated. Jessica Cortell's vineyard management service has overseen the day to day operations in conjunction with the winery since 2018.

Picking Dates, Tonnages, Tons/Acre: September 10 Block 2 2.23 (2.23 tons/acre), September 25 Dijon 777 .69 tons (1.38 tons/acre) and Pommard .72 tons (1.44 tons/acre).

Vinification: For this bottling there were 3 fermenters, all done in 1.75 ton containers and all done entirely destemmed. Block 2 Pommard was done in 2 separate fermenters that were pressed together and the Pommard/Dijon 777 were co-fermented in 1 fermenter.
Winemaking: Fermentations were managed by a combination of pumpovers early in the process and exclusively prior to fermentation beginning as well as pigeages to ensure gentle handling, extraction and delicate tannin construction. Cold soaks were generally 3-4 days. Full fermentation from beginning to pressing was at 18 days. 24-48 hour settling prior to being racked to barrel. All wines on full lees until assemblage for bottling. Bottled without fining or filtration.

Barrels: For this 10-barrel bottling, 1 new Cadus barrel was used. Past that the wine was a combination of barrels ranging in age from 3 to 12 times used. The bottling is a combination of 10 barrels from Block 2 and 3 barrels from the co-fermentation of the Pommard and Dijon 777.
Notes: This is our 6th bottling from this site which we began a relationship with in 2015. All the bottlings have certainly been worthy of vineyard designation. However, when this site hits the right notes with the right vintage it sings in ways that few wines can. Medici's elevation and it's tendency to have breezy afternoons allows it to not only fare well in hot vintages but to flourish. Prior to this bottling the ethereal 2017 was the gold standard for our Medici Vineyard bottlings. The 2021 will give that a hard run for its money. When Medici does its thing it is fragrant beyond all manner of recognition. The wine has amazing red and purple flowers aromatically which combine with fruits that are spicy and sublime. The texture is only medium bodied but the wine has such precision and incredible mouthfeel that it feels rich far beyond its actual density. This is a wonderful and unique bottling that delivers on the promise that old, historical vines offer up. This finished with a TA of 5.4, a pH of 3.51 and was bottled with under 35 ppm free SO2 and less than 85 ppm total SO2.
Wine Specs
Appellation
Chehalem Mountains
Vineyard Designation
Medici