2021 Balcombe Vineyard, Block 1B Pinot Noir
98 points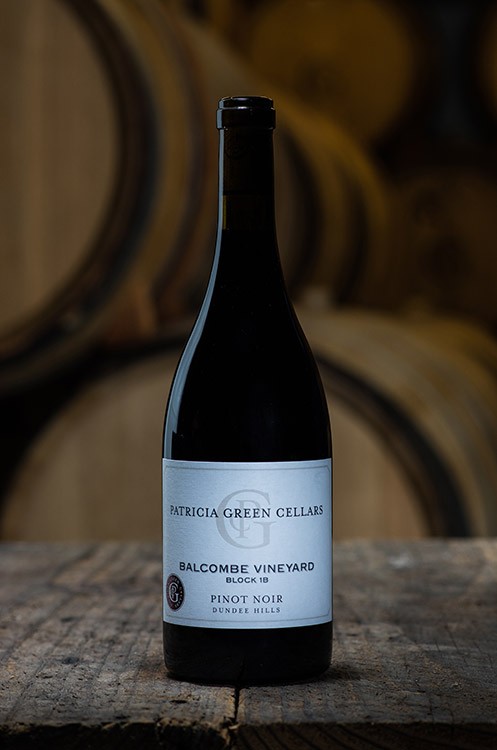 95 Points - Vinous
Shimmering ruby-red. Incisive red and blue fruit and blood orange scents show superb clarity and take on suggestions of succulent flowers, exotic spices and a hint of smoky minerality with air. Juicy, appealingly sweet and animated on the palate, offering vibrant boysenberry, raspberry, five-spice powder and candied rose flavors braced by a spine of juicy acidity. The floral and spice notes repeat emphatically on the impressively long finish, which features well-integrated tannins and resonating red fruit character. 50% whole clusters and 27% new French oak.
-- Josh Raynolds
Wine Making and Notes: This is the most popular wine at Patricia Green Cellars. The Wine Club exists because of it. This block happens to produce wine utterly like anything else from the rest of the vineyard. It is darker, much more structured, more earth bound and deeper than the much higher-toned fruit in the regular Balcombe Vineyard bottling. This block has been this different since our first time working with this site in 1997. Nothing has changed. We were able to do two fermentations done with 50% whole clusters. Both went through a standard cold soak of about 5-6 days in 1.75 ton fermenters and both were exclusively pigeaged 1x/day until dry and then pressed and allowed to settle for 3 days. This spent a little less than a year in 28% new barrels and a variety of once used to three times used barrels. The whole cluster element lends spices and herbs to the super-darkly fruited nature of the wine creating depth and complexity. As usual, the wine is brooding in its youth and has incredible longevity. Tastings of the 2000 and 2001 bottlings over the past year revealed wines that were in tremendous shape. We are better at what we do now than we were then and the vineyard is 30 years old now, not just getting to 10. This section of the vineyard is a worker. It just cranks out an incredible wine every single year. Every year the vines get more mature and at 30 years of vine age now in a space of full maturity. This is a gorgeous uber-rendition of Dundee Hills Pinot Noir. In the past eleven vintages (2008-2018) it has received scores of 93, 93, 93, 93, 93, 93, 93, 94, 95, 94 and 95 from Josh Raynolds of Steve Tanzer's International Wine Cellar/Vinous.com.
CLONAL MATERIAL: 100% Pommard
SIZE: Vineyard 7.25 acres/Block 1B 1.5 acres
VINIFICATION: 60% whole cluster in an open-top 2.5 ton fermenter
PICKING DATE: October 2nd
TONS/ACRE: 1.70
AVA: Dundee Hills
LOCATION: Breyman Orchards Rd.
ELEVATION: 600-650'
SOIL TYPE: Jory
YEAR PLANTED: 1990
CLONAL MATERIAL: 100% Pommard
VINEYARD SIZE: 7.25-acre vineyard
OWNER: Joyce Cooke
MANAGED/FARMED BY: Patricia Green Cellars
Soils: Dundee Hills is known for its rich, red volcanic Jory soil, which was formed from ancient volcanic basalt and consists of silt, clay and loam soils. They typically reach a depth of 4 to 6 feet and provide excellent drainage for superior quality wine grapes.
Topography: The Dundee Hills viticulture region consists of a single, continuous landmass that rises above the surrounding Willamette Valley floors and is defined by the 200-foot contour line to the AVA's highest peak of 1,067 feet. The area comprises a north-south spine with ridges, as well as small valleys on its east, south and west sides. Dundee Hills is part of a North Willamette Valley hill chain that developed as a result of intense volcanic activity and the collision of the Pacific and North American plates. Dundee Hills is typically volcanic over sedimentary sandstone.
Site Characteristics: Balcombe Vineyard is located toward the top of the Dundee Hills on Breyman Orchards Rd. at the southern end of the Dundee Hills. Adjacent vineyards would include White Rose, Domaine Drouhin, Daphne (Eyrie) and some Domaine Serene sites. It was planted in 1990 to Pommard clone. In 1997, while at Torii Mor, we began farming this vineyard and getting all the fruit from the 7.25 acres and we have worked with the fruit every year since 1997 so we have become pretty accustom to how the grapes grow, ripen and ferment into wine. The vineyard sits at about 600-700' elevation.
Wine Specs
Vineyard Designation
Dundee Hills