2020 Still Wine
2020 Still Wine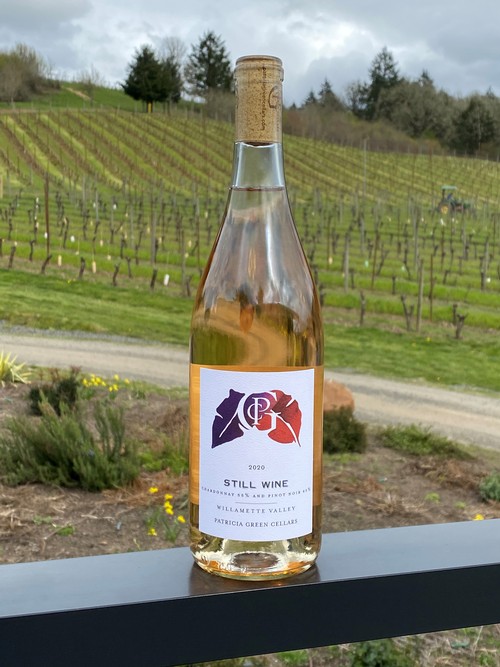 This bottling is a combination of Chardonnay from our Estate and Durant Vineyards and whole bunch-pressed Pinot Noir (so, no skin contact prior to fermentation) from Weber Vineyard.
Despite our best efforts none of these items seemed to be stand alone entities. The Chardonnays had lovely texture, acid and aromatics but were not deeply flavored. The Pinot Noir was very nice but sort of fell out of our wheelhouse as we are not huge fans of either rosé of Pinot Noir or "white" Pinot Noir. At the very least, 2020 has called for some creative thinking. What we thought might work would be to fill the flavor void in the Chardonnay with the abundant fruitiness of the Weber Pinot Noir and to provide some richness and texture in reciprocation.
It's no secret that many people here at the winery have a love for Champagne. While Oregon is now rife with every manner of sparkling wine we would count ourselves as "not interested" in that particular venture. This wine is, perhaps, a compromise. Certainly, Pinot Noir and Chardonnay are the two most common varieties found in Champagne and before Champagne becomes sparkling it is a flat wine in barrel, with the carbonation coming only after being bottled. This bottling has the distinct flavor and texture of a base wine waiting to become Champagne. The Pinot provides some light red fruits and the Chardonnay and the barrels it was in brings acidity, richness and some brioche notes to the party, and it is a party, making for a wine that is sort of ready for anything.
This is most-certainly (hopefully) a one-time only experience from Patricia Green Cellars. As much as this is a delicious little treat it is not something we are looking to repeat. This is a product of circumstances that we, and everyone else in this part of the world, are hoping never reoccurs. It is an opportunity for you out there. The pedigree of the grapes is extremely strong, we worked as hard at making these wines as we always do and we think this is a fun, different and unique white wine that happens to have a little bit of a copper-color tone to it. The use of the word "Still" is intended to have multiple meanings so try running through what it all could explain and you can be in on the joke as well.
Wine Specs
Appellation
Willamette Valley