Club Seminar with the Winemakers Saturday 8/14 11.am.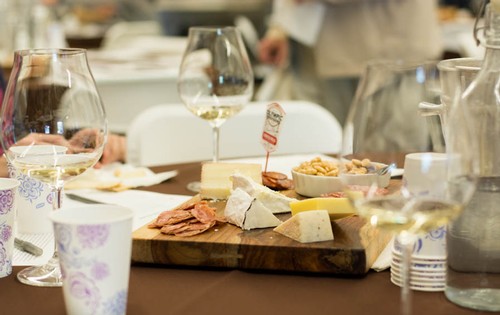 This event will be a seated tasting, just like the barrel seminars we have done in the past. Jim Anderson & Matthew Russell will walk you through the wines as we give you a tour of the newly released 2019's This year due to popular demand, we are allowing members to bring friends to this event. The tasting will last for 90 minutes and will be paired with a lavish cheese and charcuterie board for you and the guests in your party. We will be holding this event outside in the cellar/crush pad underneath a tent. We will have parties spaced at appropriate distance to ensure everyone is comfortable and safe.
Special Wine Release: 2019 Durant Vineyard Decade Cuvee
Winemaker Notes: 2019 represented our 10th Anniversary of receiving fruit from this old and historic Oregon vineyard. We have bottled the Durant Vineyard Bishop Block Pinot Noir since 2010 (with the exception of 2012 when there was no fruit due to an inopportune hail storm) and the Durant Vineyard Madrone Block Pinot Noir since 2012. Sustaining and maintaining long-term vineyard relationships is a difficult thing to do. We have had several seemingly successful relationships end after 5-6 vintages for a variety of reasons, usually for reasons far beyond our control. We wanted to pay homage to the length and quality of this productive relationship by bottling a completely uniquely Pinot Noir that combines aspects of the two blocks with which we work.
We chose 40 gallons from two different barrels of the 1973 planted Bishop Block, one from a completely destemmed fermenter and one from a 100% whole cluster fermenter and 40 gallons from a 50% whole cluster fermenter barrel out of the 2000 planted Madrone Block. Since we started the two blocks two vintages apart we chose to bottle them separately. Given that one is Pommard Clone planted in 1973 and the other is Dijon 115 planted in 2000 it seemed the right choice, the choice with the most integrity and the most interesting way to show the nature of this great, old site. However, it seemed like this was the perfect opportunity to bring these two blocks together and create a Pinot Noir that captured and displayed the entirety of our relationship with the Durant's and their vineyard. The addition of the fruit driven and dynamically flavored Madrone Block into the stately, minerally and ethereal nature of Bishop Block makes for a very interesting wine. There is more synergy between the two different wines than expected and flavors that seemingly don't exist in either wine such as green tea leaf show up and provide the wine with a special level of interest and complexity. Despite the delicious showing this wine likely will not be repeated for another 10 or 15 years so act accordingly!