2021 Freedom Hill Vineyard, Pommard Clone Pinot Noir Magnum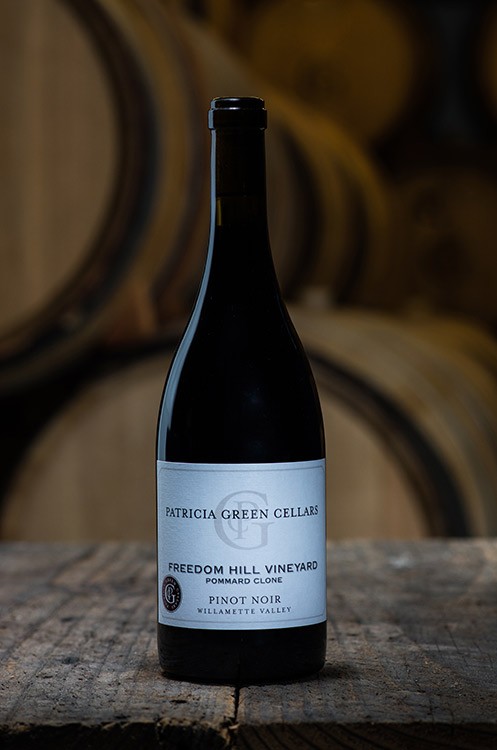 Site History: The vineyard was established in 1982 by the people who still own and manage it to this day: Dan and Helen Dusschee. While they may not have realized it at the time, they were settling onto a site destined to be one of the top Pinot Noir vineyards in the state of Oregon. Their rigorous and professional approach to the management of the vineyard has brought about that greatness, and even though the vineyard suffered through a scourge of phylloxera replantings, expansion of the site has shown that there is a distinct and indomitable terroir. Few non-estate vineyards in Oregon can reach as far back in history with regards to being bottled as a single vineyard designated wine as Freedom Hill Vineyard. Panther Creek Winery began designating the site in the late 80s. St. Innocent began doing so in the early 90s. In 2013 their son, Dustin, rejoined the farm and began taking over day-t0-day management operations. Even while expanding to slightly over 90 acres over the years, this vineyard remains a family owned, lived upon and operated venture, something that is becoming increasingly rare and, thus, that much more special in Oregon.

Site Characteristics: Freedom Hill Vineyard lies toward the eastern edge of the Coast Range Foothills. While associated geographically with the Eola Hills, the site lies south and west of the border of the Eola-Amity Hill Appellation outside of the town of Monmouth. The vineyard is planted on a marine sedimentary type of soil known as Bellpine. The vineyard is also located just south of the Van Duzer wind corridor which allows for more consistent average temperatures due to a lack of afternoon and evening offshore breezes rolling through. This site is known for powerful or, at least, extremely intense Pinot Noirs. Wines tend to be very dark in color and operate on the blue, purple, black end of the fruit spectrum. Tannin structure can be impressive. This vineyard has the capacity to produce some of the most extraordinary wine made in the state.

The Block: Since 2012 when we initially began sourcing fruit from Freedom Hill Vineyard we have chosen a sub-set of the different blocks to bottle based upon the clone within the block. Not all blocks in this (or any vineyard for that matter) are equal. The Pommard Block is a fascinating lesson in learning that a vineyard or section of vineyard does not have to be "dramatic" looking to produce extraordinary fruit. Many of the most heralded vineyards in Burgundy, including La Tache, Bienvenue-Batard Montrachet and Echezeaux are planted in areas that don't "look the part" of being great vineyards. The Pommard Block in the Heritage section of Freedom Hill is exactly that. Lightly sloping down from a stand of trees (now logged) all the way down to the property line separating Freedom Hill from Croft Vineyard it is simply a normal looking plot. However, the Pommard thrives here. The thinner top soil in this part of the vineyard demands that the plants dig deeper and more quickly to find more productive sources of nutrients and water. Thus, what seems ordinary on the face is actually extraordinary because of what is happening in ways we cannot perceive. At least until the wine is made.

Farming Practices: Since 2013 Freedom Hill Vineyard has been moving diligently and consistently from conventional farming practices to organic farming. While not 100% turned to organic practices it is closer to that than it is to so-called "sustainable farming." Great attention has been paid to specific cover cropping, foliar feeding and cultivation. The result is a healthier vineyard with a greater range of blocks producing single vineyard quality style wines.

Picking Dates, Tonnages, Tons/Acre: September 9 6.36 tons (3.18 tons/acre).

Vinification: For this bottling there were 4 fermenters, all done in 1.75 ton containers and with 40% whole clusters with the exception of one which was entirely destemmed. Two of the 40% whole cluster fermenters were pressed together and the other 40% whole cluster fermenter was pressed with the destemmed one. The wines were barreled and labeled separately and barrels were selected from both lots to form the finished wine.

Winemaking: Fermentations were managed by a combination of pumpovers early in the process and exclusively prior to fermentation beginning as well as pigeages to ensure gentle handling, extraction and delicate tannin construction. Cold soaks were generally 2-3 days. Full fermentation from beginning to pressing was at 16 days. 24-48 hour settling prior to being racked to barrel. All wines on full lees until assemblage for bottling. Bottled without fining or filtration.

Barrels: For this 8-barrel bottling, 3 new barrels were used all of which were Cadus. Past that the wine was a combination of neutral barrels to round it all out.

Notes: We have always said that this wine is the most "Freedom Hill-y" of all the Freedom Hill Pinot Noirs we produce. Historically this vineyard was known for producing dark, massive, large scale and highly structured wines. Perhaps. Certainly, the wines we produce from this site are bold and have a greater degree of largesse than most of our other Pinots but mostly we feel that degree is subtle and contained within the context of the site's natural inclinations and proclivities. This bottling has always reached back into that history and pulled some of it forward. This is black-fruited wine with meaty overtones, earthy sidenotes and a wealth of structure. This is a tightly wound spring that takes a long time to uncoil. None of the previous 8 bottlings of this dating back to 2012 is truly ready to drink at this point. Josh Raynolds of Vinous.com likened the nose of the 2013 to an Henri Jayer Echezeaux so the wine has some incredible upside chops. It is a wine for either those that enjoy the savagery of wild, youthful, unburnished Pinot Noir or for those with the patience to wait it out. This finished with a TA of 5.9, a pH of 3.52 and was bottled with under 25 ppm free SO2 and less than 70 ppm total SO2.
Wine Specs
Appellation
Willamette Valley
Vineyard Designation
Freedom Hill