2021 Durant Vineyard, Madrone Blk, Pinot Noir Magnum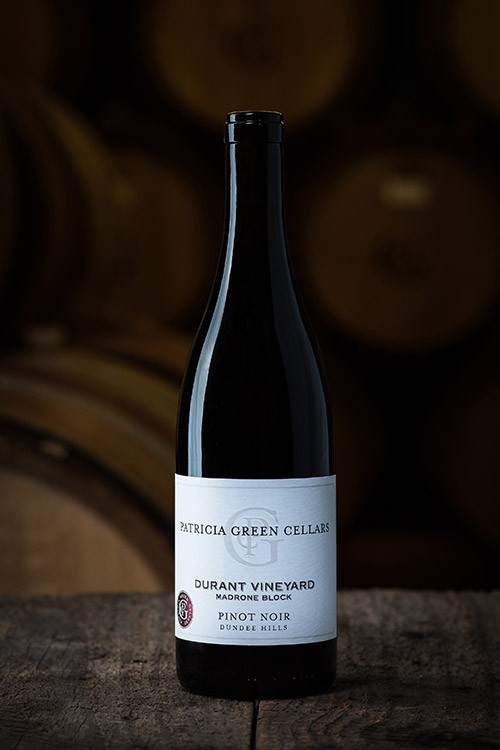 Site History: Durant Vineyard is, by any measure, one of the pioneer vineyards in Oregon. The site was established and first planted in 1973 by Ken and Penny Durant who, along with their son Paul, owns and farms it to this day. Set on Breyman Orchards Rd. at the southern end of the Dundee Hills the vineyard is about 60 acres in size with a wide range of elevation topping out at about 600 feet, and has several different plantings of Pinot Noir and other varieties. This is a mostly south-facing site that is adjacent to Domaine Drouhin, De Ponte and Sokol Blosser. To give some perspective on how fertile and life-sustaining the soil is in the Dundee Hills there is also a successful olive orchard planted on the property from which the Durants make some pretty damn good olive oil. We get two sections of fruit from the vineyard. The Bishop Block which was planted to Pommard in 1973 and the Madrone Block which is a 2000 planting of Dijon 115 clone.
Site Characteristics: This block is on a long, gently sloping stretch of hill that faces due south overlooking southern Yamhill County. The rows run opposite the normal north-south which is, especially in this day and age, not necessarily a bad thing. Dijon 115 is known for its early ripening and deeply concentrated fruit character and the Dundee Hills soil and warm growing conditions can enhance these attributes. This section of the vineyard is fortunate to be bounded on one side by trees which provide both shade and a cooling effect. This old vineyard is the home to the Durants and is a significant historic Oregon site. While this block took nearly 30 years to be planted the journey from laying fallow for years to the type of wines it is capable of putting out now assuredly was worth the wait.
The Block: The Madrone Block came about when Ken and Penny were looking for property to purchase for the purpose of planting grapes, they were told that one of the things to look for as a plant indicator were Madrone trees. While other blocks were planted before this one the name for the block was withheld until the 2000 planting along a stretch of hillside dotted with Madrones was planted to Dijon 115. Patricia Green Cellars began receiving fruit in 2012 from this block when the adjacent Bishop Block was severely damaged by a spring hail storm. While we had been bottling the Bishop Block we had only done so under the moniker "Durant Vineyard." Not wanting to conflate the two we used the specific block to identify this bottling in 2012 and then moved to bottling the Bishop Block and Madrone Block as separate bottlings each vintage since 2013.
Farming Practices: This vineyard, no doubt, encapsulates a lot about the Oregon farming experience. Assuredly in the 1970s the Durants farmed the way most places on the planet did and it's probably not something anyone wants to think deeply about at this point. However, over time and with prodding from any number of their winery customers (ourselves included) the Durants have moved toward organic farming and even incorporate productive livestock like sheep and goats to keep weeds at bay. Over the years since we began with this family's vineyard (2010) we have seen a marked change in the farming and the resulting health of the plants and soil.
Picking Dates, Tonnages, Tons/Acre: The entirety of our fruit from the blocks was picked on September 13th coming in at about 2.1 tons/acre. While many vineyards in the area experienced bountiful harvests in 2021, Durant was somewhat below average in production this vintage.
Vinification: All fruit from the vineyard was done entirely destemmed in 2021.
Winemaking: Fermentations were managed exclusively by pigeages to ensure gentle handling, extraction and delicate tannin construction. Cold soaks were generally 4 days across all five fermenters. Full fermentation from beginning to pressing was 16 days. A 48-hour settling of pressed wine occurred prior to being racked to barrel. All wines were on full lees until assemblage for bottling. Bottled without fining or filtration.
Barrels: This 14-barrel bottling consists of only 1 new barrel (7%), a pair of thrice-filled barrels (21%) and a large selection of neutral barrels (72%). Wine was in barrel until late June and bottled in late July allowing for around 9 months in barrel.
Notes: The Madrone Block from Durant Vineyard has been somewhat of a crowd-pleaser sort of wine in its youth. Over the past couple/three vintages the wine has solidified itself in the upper echelons of our bottlings. The vines have aged into maturity, the quality of the farming is far greater than it was a decade ago and we have figured out ways to coax out the more subtle qualities in the grapes while still leaving a bit of the more hedonistic side of things for a wine that is deep, rich and satisfying. The Dundee Hills Pinot Noirs can be plush and they can be too much of a good thing if allowed to be. This wine now brings to the table a wealth of red fruit, an amazing texture, but a greater sense of underlying tannin that pulls the largesse of this wine into great balance. This is a delicious wine in the here and now but promises for development in the future. The wine finished with numbers of a TA of 6.0, a pH of 3.45, a free sulfur level below 25 ppm and a total sulfur below 75 ppm.
Wine Specs
Vineyard Designation
Durant Vineyard