2019 Medici Vineyard Pinot Noir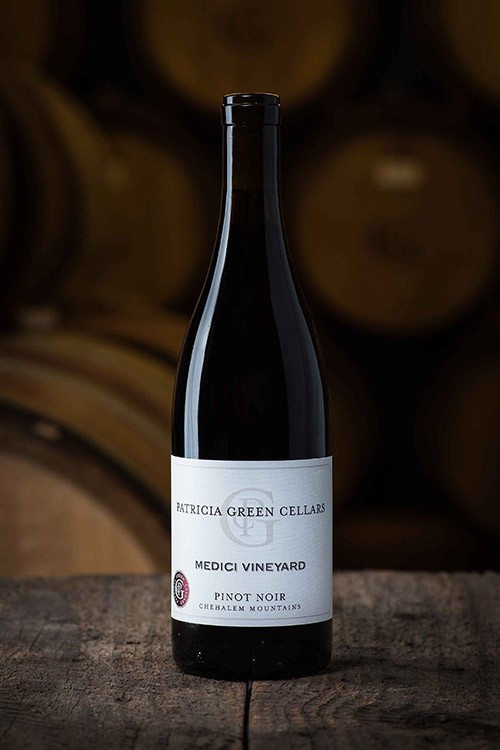 Wine history: Chehalem Mountains' winegrowing history dates back to 1968 when UC Davis refugee Dick Erath purchased 49 acres on Dopp Road in Yamhill County. He aptly called the property Chehalem Mountain Vineyards. By the mid to late 1970s, there was a patchwork of vineyards in the area, including those owned by such modern wine pioneers as the Adelsheims and the Ponzis. Over the next three decades other reputable winegrowers planted roots in the area. The appellation was approved in the late fall of 2006.
Climate: Chehalem Mountains' elevation goes from 200 to 1,633 feet, resulting in varied annual precipitation (37 inches at the lowest point and 60 inches at the highest) as well as the greatest variation in temperature within the Willamette Valley. These variations can result in three-week differences in the ripening of Pinot noir grapes.
Soils: Chehalem Mountains have a combination of Columbia River basalt, ocean sedimentation, and wind-blown loess derivation soil types.
Topography: Chehalem Mountains is a single landmass made up of several hilltops, ridges and spurs that is uplifted from the Willamette Valley floor. The appellation includes all land in the area above the 200-foot elevation. They are the highest mountains in the Willamette Valley with their tallest point, Bald Peak, at 1,633 feet above sea level.
Site Characteristics:At a time when the Dundee Hills almost exclusively were the home to the burgeoning Oregon wine industries' initial craftspeople Hal Medici planted his first vines in 1976 to the northeast of the Dundee Hill on Bell Rd. due north of downtown Newberg in an area that is now part of the Chehalem Mountains AVA. Over the course of the next 25 years the vineyard was expanded to its current size. While it has Pinot Noir, Chardonnay and Riesling planted in it Patricia Green Cellars sources only Pinot Noir from four distinct sections.
Medici Vineyard is a good analogy for what one might find in the large, diverse and far-ranging Chehalem Mountains AVA. Our other two vineyards in this AVA are largely planted in Marine Sedimentary soil. However, Medici begins at over 500' in elevation and rises to close to 900' elevation putting it squarely into the sections of hillsides where one would find Volcanic soil. And Medici is, in fact, planted in Jory soil which gives it a flavor profile more in common with our Dundee Hills' wines than wines from the same appellation just down the way on the same road.
Wine Specs
Appellation
Chehalem Mountains