2019 Freedom Hill Vineyard, Wadensvil Pinot Noir Magnum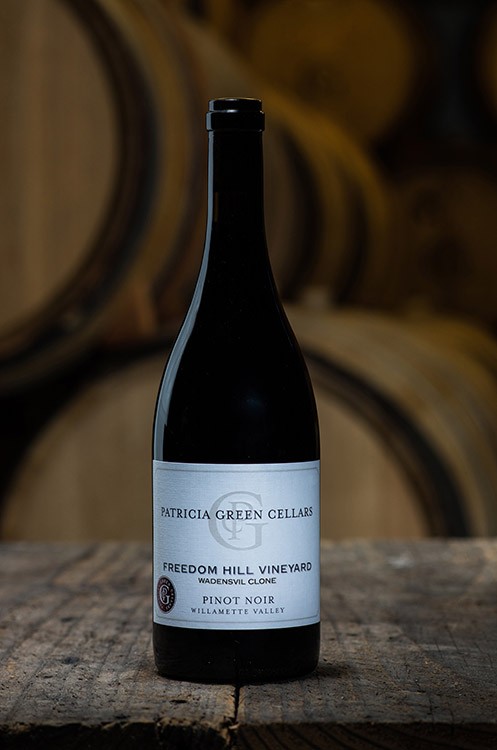 Winemaker's Notes: While this is the last entrant in our "Wadensvil in Marine Sedimentary soil" series (Corrine, formerly Olenik, and Estate) it has quickly earned its place in that incredibly specific yet very special group. Freedom Hill puts an extra twist on this clone/soil combo by being the one of the trio that throws the most soil-influenced substance at the red-fruited/elegant-mouthfeel nature of the Wadensvil clone. This leads to a wine brimming with dark red fruit that simmers at the edge of darkness. There is just enough firmness that the elegant tannins are elongated and you get a unique wine of weight, power, deftness and subtlety. This is a pure beauty.
AVA: Willamette Valley
LOCATION: Burnell Rd., Dallas, OR
ELEVATION: 500'
SOIL TYPE: Bellpine
YEAR PLANTED: 1998
CLONAL MATERIAL: 100% Wadensvil
VINEYARD SIZE: 85-acre vineyard, 1.1-acre PGC block
OWNERS: Dan and Helen Dusschee
Site Characteristics: Freedom Hill Vineyard lies toward the eastern edge of the Coast Range Foothills. While associated geographically with the Eola Hills the site lies south and west of the border of the Eola-Amity Hill AVA, outside the town of Monmouth. The vineyard is planted on a marine sedimentary type of soil known as Bellpine. The vineyard is also located just south of the Van Duzer wind corridor which allows for more consistent average temperatures due to a lack of afternoon and evening offshore breezes rolling through. The vineyard was established in 1982 by the people who still own and manage it to this day, Dan and Helen Dusschee. While they may not have realized it at the time they were ultimately settling onto a site destined to be seen as one of the top Pinot Noir vineyards in the state of Oregon. Their rigorous and professional approach to the management of the vineyard has brought about that greatness and even though the vineyard suffered through a scourge of phyloxera replantings and expansion of the site have shown that there is a clear and indomitable of terroir here. We had the great fortune of being in the right place at the right time with the right need for fruit in 2012 and we have had the great fortune to produce what we consider to be some of the greatest and most focused Pinot Noirs we have ever made.
You're never safe! We will always ferret out some more great fruit from somewhere and make a new bottling out of it. Freedom Hill Vineyard. Check. 20 year old vines. Check. Wadensvil Clone. Check. While our other Freedom Hill bottlings live on the darker side of the fruit spectrum, this one shows how a distinctly red fruit profile fits into the natural structure and power that this site displays. In our now mini-horizontal bottling of Wadensvil Clone Pinots, this one stands out for its tension and structure. In the Freedom Hill Clonal bottlings, it stands out for its elegance and purity. Yes, another bottling of utterly unique and terrific wine.
Wine Specs
Appellation
Willamette Valley
Vineyard Designation
Freedom Hill