2019 Freedom Hill Vineyard, Wadensvil Clone Pinot Noir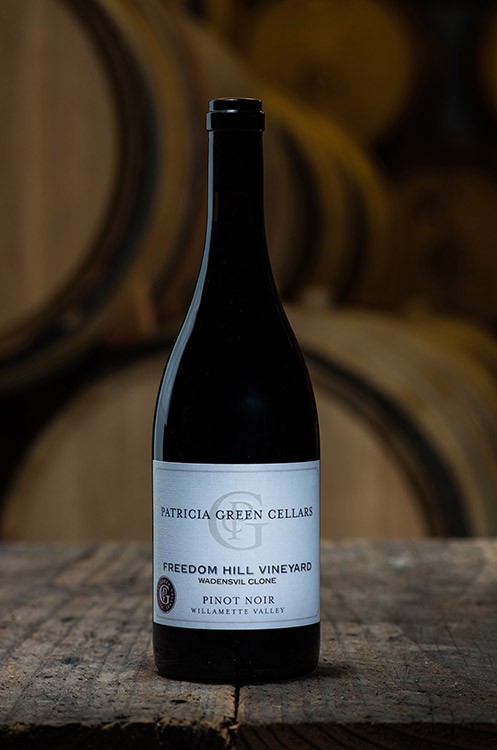 95 Points - Vinous
Glistening ruby-red. Assertive, mineral-accented red berries, baking spices, cola and candied flowers on the seductively perfumed nose. Sappy, alluringly sweet and focused on the palate, offering juicy cherry, black raspberry, allspice and mocha flavors that flesh out slowly through the back half. Sharply focused and seamless in texture, finishing with impressive power, a resonating red fruit note and smooth, well-judged tannins. All de-stemmed fruit.
-- Josh Raynolds
Description: This is where our bread is buttered. I used to say that about our Pommard clone wines and while that is still the lion's share of the overall cellar volume there is no doubt that Wadensvil is the queen of our cellar. A very high percentage of Wadensvil barrels not only go into single vineyard bottlings, they go into bottlings specifically labelled as Wadensvil. Especially when sourced from Marine soils (Corrine and the Estate are likewise Marine soils, albeit a different type than Freedom Hill) Wadensvil produces incredibly intriguing and complex wines. Patty and I first noticed this when receiving fruit from Shea Vineyard in 2001 and ever since then we have made it a specific mission to search and obtain this soil/clone combination. We were offered this section in 2016 when the block was dropped by another winery due to stress issues that were limiting the quality of the wine. With cooperative work from the Duchesses we have re-built the soil health and within just 3 vintages the wine went from going into the Reserve bottling (2016) to possibly being the best single vineyard wine we released (2018). The 2019 is aromatic, attractive, red-fruited, minerally and a touch denser and more robust than all of the things leading up to the texture and structure of the finish would have you guess. This is a beautiful, complete, elegant-yet-sneaky-strong Pinot Noir.
CLONAL MATERIAL:100% Wadensvil
SIZE: Vineyard 85 acres/PGC Blocks total 14 acres
VINIFICATION: Several open-top 1.75 ton fermenters with 100% de-stemmed fruit.
PICKING DATE: September 30
TONS/ACRE: 2.60
AVA: Willamette Valley
LOCATION: Burnell Rd., Dallas, OR
ELEVATION: 500'
SOIL TYPE: Bellpine
YEAR PLANTED: 1998
CLONAL MATERIAL: 100% Wadensvil
VINEYARD SIZE: 85-acre vineyard, 1.1-acre PGC block
OWNERS: Dan and Helen Dusschee
Site Characteristics: Freedom Hill Vineyard lies toward the eastern edge of the Coast Range Foothills. While associated geographically with the Eola Hills the site lies south and west of the border of the Eola-Amity Hill AVA, outside the town of Monmouth. The vineyard is planted on a marine sedimentary type of soil known as Bellpine. The vineyard is also located just south of the Van Duzer wind corridor which allows for more consistent average temperatures due to a lack of afternoon and evening offshore breezes rolling through. The vineyard was established in 1982 by the people who still own and manage it to this day, Dan and Helen Dusschee. While they may not have realized it at the time they were ultimately settling onto a site destined to be seen as one of the top Pinot Noir vineyards in the state of Oregon. Their rigorous and professional approach to the management of the vineyard has brought about that greatness and even though the vineyard suffered through a scourge of phyloxera replantings and expansion of the site have shown that there is a clear and indomitable of terroir here. We had the great fortune of being in the right place at the right time with the right need for fruit in 2012 and we have had the great fortune to produce what we consider to be some of the greatest and most focused Pinot Noirs we have ever made.
You're never safe! We will always ferret out some more great fruit from somewhere and make a new bottling out of it. Freedom Hill Vineyard. Check. 20 year old vines. Check. Wadensvil Clone. Check. While our other Freedom Hill bottlings live on the darker side of the fruit spectrum, this one shows how a distinctly red fruit profile fits into the natural structure and power that this site displays. In our now mini-horizontal bottling of Wadensvil Clone Pinots, this one stands out for its tension and structure. In the Freedom Hill Clonal bottlings, it stands out for its elegance and purity. Yes, another bottling of utterly unique and terrific wine.
Wine Specs
Appellation
Willamette Valley
Vineyard Designation
Freedom Hill