2019 Freedom Hill Vineyard, Pommard Clone Pinot Noir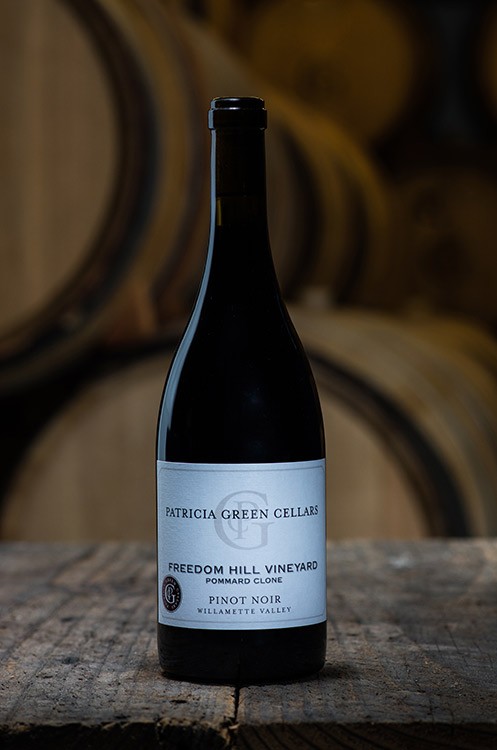 94 Points - Vinous
Saturated garnet color. Mineral- and spice-tinged black raspberry, cherry-cola and lavender aromas are complemented by a smoky nuance and a hint of botanical herbs. Well-concentrated yet energetic as well, offering palate-staining red/blue fruit, floral pastille and spicecake flavors that are supported by an undercurrent of smoky minerality. Finishes very long and focused, with repeating red berry, spice notes and slowly building tannins. 28% new French oak.
-- Josh Raynolds
Winemaking and Notes: This is where our bread is buttered. While there may be an overemphasis on clonal material here in the U.S. vis-à-vis the way things are viewed in Burgundy, there is no denying that a) we work with Pommard clone far more than any other clone and, b) there is something to Pommard that makes it stand out from the majority of the Dijon clones. Of the four block-designated wines we have here, this one may best capture the historical view of the Freedom Hill Vineyard. This section of the vineyard was re-planted in 2001. This wine was in barrel for a little less than a year in 28% new barrel and a combination of once-three times used barrels. The 2012-2017 bottlings of the Freedom Hill Pommard Clone bottling have ranged from very dark to very, very dark. Freedom Hill runs that way, the Pommard Clone especially so, and those vintages in general have produced a bevy of darker toned wines. This vintage is in keeping with those but we believe this stands out for its balance of pure fruit with the gamier/meatier qualities previous bottlings have shown. While in no way varying from what the Pommard clone brings to the nature of Freedom Hill Vineyard this bottling, unlike many 2019s, shows the dark fruit inherent to Pinot Noir, but in a more engaging and less sauvage sort of way previous bottlings of this may have not. There is still the density and structure but in a more, shall we say, refined manner. This is still a bit of a beauty and a beast which is nice. Dichotomies are ultimately what make Pinot Noir so amazingly interesting and alive and this wine has that in spades.
Wine history: The agricultural history of this area near Salem dates back to the mid-1850s, though it wasn't until the 1970s that winemakers started to discover the area as having ideal growing conditions for high-quality wine grapes. It was around this time that a few modern pioneers, including Don Byard of Hidden Springs, planted a patchwork of vineyards in the Eola-Amity Hills. Soon after, other pioneers followed suite and today this area produces world-class, handcrafted cool-climate varietals. The appellation became official in 2006.
Climate: The Eola-Amity Hills region enjoys a temperate climate of warm summers and mild winters, and 40 inches of annual rain, most of which falls outside of the growing season. Average maximum temperatures are 62 degrees Fahrenheit in April and 83 degrees Fahrenheit in July, which contributes to the ideal conditions for the cool-climate grape varieties that dominate the Eola-Amity Hills. The climate in this region is greatly influenced by its position due east of the Van Duzer Corridor, which provides a break in the coast range that allows cool Pacific Ocean air to flow through. This drops temperatures in the region dramatically, especially during late summer afternoons, helping to keep grape acids firm.
Soil: The soils in the Eola-Amity Hills predominantly contain volcanic basalt from ancient lava flows as well as marine sedimentary rocks and alluvial deposits at the lower elevations of the ridge. This combination results in a relatively shallow, rocky set of well-drained soils, which typically produce small grapes with great concentration.
Topography: The Eola Hills, and its northern extension, the Amity Hills, are part of a North Willamette Valley hill chain that developed out of intense volcanic activity and the collision of the Pacific and North American plates. The main ridge of the Eola Hills runs north-south and has numerous lateral ridges on both sides that run east-west. The majority of the region's vineyard sites exist at elevations between 250 to 700 feet.
Site Characteristics: Freedom Hill Vineyard lies toward the eastern edge of the Coast Range Foothills. While associated geographically with the Eola Hills the site lies south and west of the border of the Eola-Amity Hill Appellation outside the town of Monmouth. Freedom Hill Vineyard was planted by Dan and Helen Dusschee in 1982. For the past 30+ years they have lived on and farmed this historical and great Oregon vineyard. Their son Dustin works with them now on the 100+ acre site. Only a handful of vineyards in Oregon could claim to have produced as many excellent wines from a wide diversity of winemakers dating back into the 1980s. Freedom Hill Vineyard would be on the very short list of great, recognized and historical vineyards in Oregon. The fact that the Dusschee family keeps working to grow better grapes on a yearly basis is a tribute to their dedication to the Oregon wine industry and the wineries they have carefully selected to work with over the years.
Wine Specs
Appellation
Willamette Valley