2017 Patty Green Commemorative Pinot Noir 9 Litre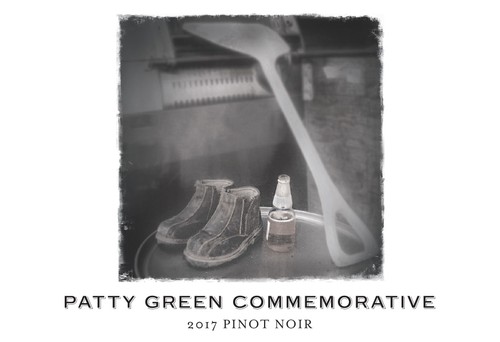 In Loving Memory of Patty Green
94 Points (Wine Enthusiast)
In honor of the late founder's last vintage, her partners tagged 150 barrels that they felt she would have particularly liked. The final blend was made from 25 of those barrels, one for each vintage Patty had made during her career. Ripe berry and cherry fruit has a creamy/crunchy mouthfeel, backed with appealing minerality. The simple, yet touching label is a photograph from the 2016 harvest—Patty's boots, shovel and beer.
(2017 Patty Green Commemorative Pinot Noir excluded from ALL discounts- case, industry & club)
Patty was an extraordinary person who did things because she always thought she could do them. She accomplished so much through talent, hard work, passion and the belief that she was doing the right thing, or at the least, the best that she could. I know it is one of the main reasons the winery worked out even at times when things were really difficult. I know that is why so many people have found inspiration in her story, her work, her wines, her laughter, her words and her kind soul.
In attempting to create a wine that encapsulated Patty as a person, I spent a long time thinking about how to present this wine. It is not about the taste, weight, balance, or aromatics but rather the emotion associated with it. I sat there for a long time thinking about Patty and how I have felt since her passing, and finally settled on how I would like people to feel about this wine when enjoying it over the coming years. I think I found the right thing after nearly two years of missing her: Hopeful.
"Hopeful"is what I want this wine to evoke. I want you all to feel hopeful when you taste it, drink it, cellar it, or give it to a friend or loved one. It is one of the most important characteristics I think about when I consider who Patty was and what she offered to other people in a variety of different ways. Hope is a really powerful thing in this world. It can bring out things in people they never knew they had in them. Patty was a person who people gravitated toward, and I think that in many cases it was because they saw something in her that they could learn from and something that could create a spark within them. My wish is that this wine, from her final vintage, will be something you can take with you and that you can enjoy at times when things are going great, or when a major event in your life transpires, or when you need to tell someone you love them, or just to remember and honor Patty.

Obviously the decision to make this wine to pay tribute to Patty was an easy one, but figuring out what this wine was going to be was, at first, a bit of a puzzle. It's easy to say "best barrels from the best vineyards" but that wasn't exactly the way she went about things. Ultimately, we simply decided to start tasting through the cellar and that we would simply know a "Patty barrel" when we tasted one. That was exactly her style.
We arrived at somewhere between 25-30 of those barrels scattered throughout the vineyards in the cellar. We ended up choosing a blend of 25 barrels as a way to signify the 25 vintages she had run wineries in the northern Willamette Valley from 1993-2017. Likewise, we settled on a bottle price of $62 which was the age she had just turned when she passed away.
We hope that this bottle of Pinot Noir provides the excellence of character you all have come to expect from our wines. This wine will provide a vehicle for remembering her fondly for the moments of joy and inspiration she brought to so many people, even if she was mostly unaware of her impact at the time. We hope that the photo on the label captures the essence of her and her ongoing impact on this winery, the people who work here and the Oregon wine community as a whole. She's still around, and while we may not be able to see her, we know that she's always up to something. Thank you all for your support over the years. Patty's true talent was creating families, and she created a huge one here with this winery.
Wine Specs
Appellation
Willamette Valley
Vineyard Designation
Patty Green