2017 Freedom Hill Vineyard, Wadensvil Clone Pinot Noir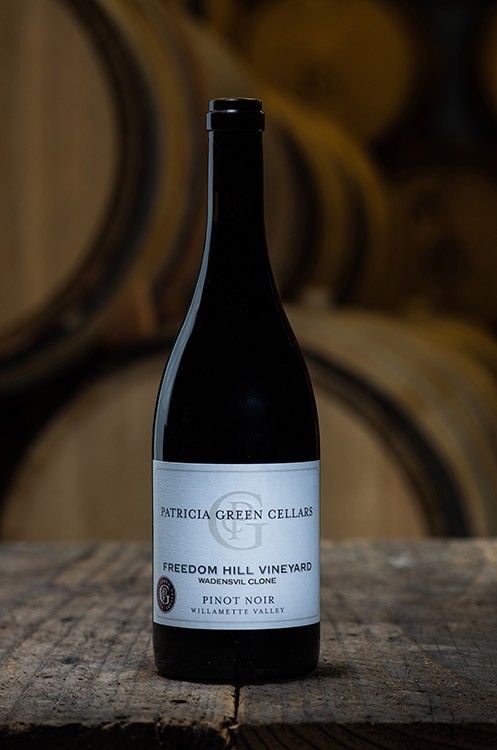 93 Points – Editors' Choice (Wine Enthusiast)
Among no fewer than five Freedom Hill cuvées from Patricia Green in 2017, this pokes out just a bit richer and fuller than the others, with brambly black cherry fruit and savory herbs. The tannins taste of black tea, and as the wine takes a deep dive down the palate, streaks of cola bring additional highlights. Quite young, but with superb long-term potential.
AVA: Willamette Valley
LOCATION: Burnell Rd.
ELEVATION: 500'
SOIL TYPE: Bellpine
YEAR PLANTED: 1998
CLONAL MATERIAL: Wadensvil
VINEYARD SIZE: 85-acre vineyard, ~11-acre PGC block
OWNERS: Dan and Helen Dusschee
We have been making wines from Freedom Hill since 2012 and have bottled 22 individual Pinot Noirs from here in those five vintages. Freedom Hill is a great site, owned and farmed by wonderful people and it has become, behind only our Estate Vineyard, the second most important vineyard in our broad and diverse cellar. We started with the older vine Wadensvil (we get two separate blocks, one older and one younger) in 2016 but waited a year to see if we could more completely realize the potential of the block.
Our instincts proved correct. The terrific thing about the Freedom Hill Pinot Noirs is that they all show the inherent deeper, bolder, more structured character that the site possesses and is well known for while also allowing a distinctly violet-y aromatic note to add a level of delicacy and grace to the wines. Wadensvil loves marine soil and it definitely benefits from anything that will add a floral note to it already floral nature. Combining with the inherent structure of Freedom Hill allows for this wine to stretch out in ways that seem impossible. This wine has great range across both its vertical axis (aromatics and flavor) and its horizontal access (power and depth) that it creates a Pinot Noir with a great amount of space to it. This is a wine that is very comfortable with itself and allows you room to explore what it has to offer.
Site Characteristics: Freedom Hill Vineyard lies toward the eastern edge of the Coast Range Foothills. While associated geographically with the Eola Hills the site lies south and west of the border of the Eola-Amity Hill AVA, outside the town of Monmouth. The vineyard is planted on a marine sedimentary type of soil known as Bellpine. The vineyard is also located just south of the Van Duzer wind corridor which allows for more consistent average temperatures due to a lack of afternoon and evening offshore breezes rolling through. The vineyard was established in 1982 by the people who still own and manage it to this day, Dan and Helen Dusschee. While they may not have realized it at the time they were ultimately settling onto a site destined to be seen as one of the top Pinot Noir vineyards in the state of Oregon. Their rigorous and professional approach to the management of the vineyard has brought about that greatness and even though the vineyard suffered through a scourge of phyloxera replantings and expansion of the site have shown that there is a clear and indomitable of terroir here. We had the great fortune of being in the right place at the right time with the right need for fruit in 2012 and we have had the great fortune to produce what we consider to be some of the greatest and most focused Pinot Noirs we have ever made.
You're never safe! We will always ferret out some more great fruit from somewhere and make a new bottling out of it. Freedom Hill Vineyard. Check. 20 year old vines. Check. Wadensvil Clone. Check. While our other Freedom Hill bottlings live on the darker side of the fruit spectrum, this one shows how a distinctly red fruit profile fits into the natural structure and power that this site displays. In our now mini-horizontal bottling of Wadensvil Clone Pinots, this one stands out for its tension and structure. In the Freedom Hill Clonal bottlings, it stands out for its elegance and purity. Yes, another bottling of utterly unique and terrific wine. Sorry.
Wine Specs
Appellation
Willamette Valley
Vineyard Designation
Freedom Hill
Wine Profile
Vineyard Notes
Wadensvil Clone