2017 Estate Vineyard, Wadensvil Block Pinot Noir 3 Litre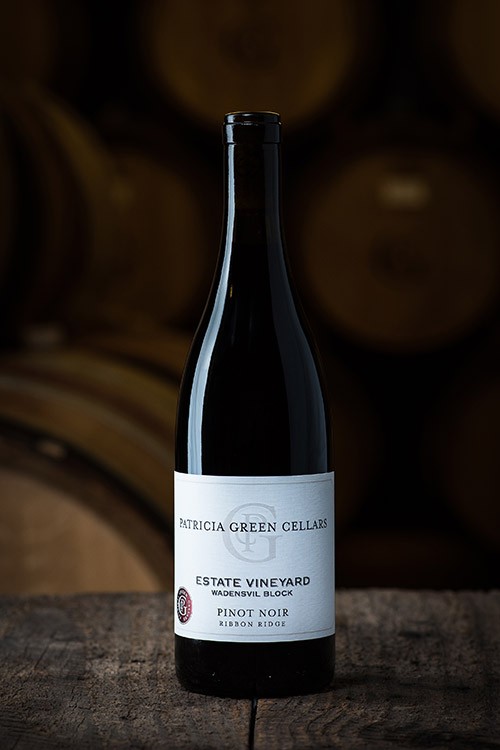 93 Points (Wine Enthusiast)
From 20-year-old vines, this opens with bright, brambly berry fruit with strong citrus highlights. It's juicy, young and vibrant with electric acidity. First bottled on its own in 2015, it's sourced from what the winery calls "a difficult part of the vineyard." In this instance, the extra care required adds up to a superior wine.
AVA: Ribbon Ridge
LOCATION: North Valley Rd.
ELEVATION: 450'
SOIL TYPE: Wellsdale
YEAR PLANTED: 1997
CLONAL MATERIAL: 100% Wadensvil
VINEYARD SIZE: 30-acre vineyard, 3.1-acre Wadensvil block
Wine Making and Notes: This 3.1 acre block in the very back of the vineyard was planted in 1997. When we bought the property in 2000 this section was had nearly quite had it. In July of 2000 this section was already entirely rife with yellow leaves. The plants were simply over-taxed from a large crop load in their first year of production followed by a dry summer and there was no hope that the fruit was going to ripen so it was all dropped off in hopes of rescuing the plants. Over the next several years this block was attended to with a special fury and the wine got incrementally better. By 2014 the block had made a complete transformations and was serving as one of the major components of the Estate Vineyard bottling.
In 2015, when this block entered the "Oh yeah, this is a stand-alone wine now" zone we were extremely excited. Wadensvil Clone planted in marine soils make really spectacular wines once the vines get to the point of maturity. The 2017 is an excellent follow from the first two vintages that proceeded it. Simply gorgeous aromatically and on the palate, but underpinned by the darker notes our site provides. It is laced with minerality and super-fine tannin structure - this is a classic Ribbon Ridge Pinot Noir!
Location: Ribbon Ridge is a sub-appellation of the Willamette Valley AVA that sits 22 miles southwest of Portland, 4 miles northwest of Dundee and 40 miles east of the Pacific Ocean. Ribbon Ridge is contained within the larger Chehalem Mountains AVA - which is contained with the Willamette Valley AVA.

Soils: The Ribbon Ridge region contains primarily sedimentary soils that are younger, finer and more uniform than the alluvial sedimentary and volcanic soils of neighboring regions. These moderately deep, well-drained silty-clay loam soils are part of the Willakenzie soil series and are of low fertility and ideal for growing high-quality wine grapes.
Topography: Geographically, Ribbon Ridge is a 3.5-mile long by 1.75-mile wide ridge that extends from the Chehalem Mountains. The ridge rises 683 feet from the Chehalem Valley floor, giving it an island-like appearance.
Site Characteristics:There are no other vineyards we work with that are as difficult to summarize in a neat package than our Estate Vineyard. There are 18 sections of Pinot Noir based on vine age and clone (as well a section of Sauvignon Blanc), elevation ranges from 250' to 475', Pinot Noir plantings were done in ten different vintages ranging from as early as 1984 to as recent as 2010. The vineyard is mostly Pommard but there is also 3 acres of Wadensvil, 3 acres of Dijon 114 and an acre of Dijon 777. Spacing varies from 5 x 6 to 5 x 8. Some blocks are inter-planted with every other row being of one age and every other a quite different age. Two blocks are inter-planted with two rows of the same age followed by one row of a different age. To add a greater level of confusion the vast majority of the site (the 25 acres at the higher elevation) is planted directly on top of the hill with a 360 degree aspect to the vineyard. Then there is the geology of the site which is an extremely sandy Marine Sedimentary soil sitting atop a large bed of sandstone sub-soil with a water table that is very deep and highly mineralized. This is a unique site to say the least.
The Wadensvil Block is the farthest east section of the vineyard. It actually slopes slightly down to the east but the most dramatic thing to note is that the block actually is at the crest of the hill so while the entirety of it has some eastern pitch a little less than half of the three acres pitches sharply to the north while the rest slopes down to the south. There are two clones of Wadensvil (Clone 1 and Clone 2) and they are both planted here in relatively equal amounts. While the two clones were picked and fermented separately the fermenters were ultimately pressed together.
Wine Specs
Vineyard Designation
Estate
Wine Profile
Vineyard Notes
Wadensvil Block