2015 Freedom Hill Vineyard Perspicacious Pinot Noir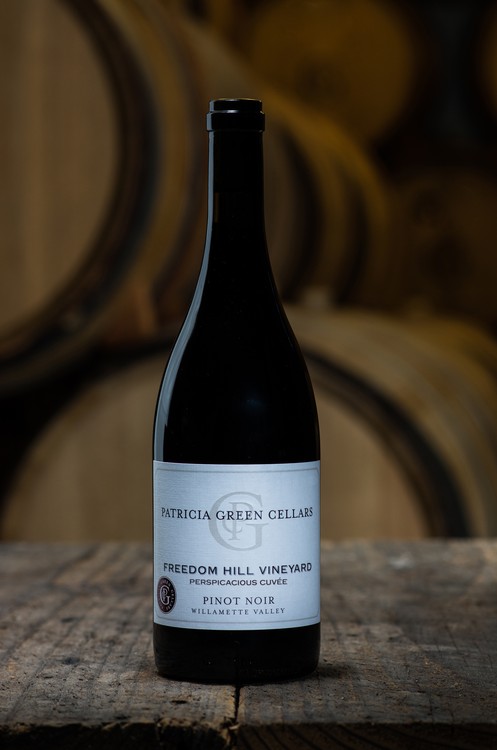 The idea of making this wine came about when we signed on with Freedom Hill Vineyard in 2012. We felt that we might have found a vineyard that has the capacity to produce a wine with the depth, structure, minerality and complexity that we were looking for to showcase our belief in the ability to produce truly extraordinary Pinot Noirs here in Oregon. There are only three barrels of this wine made. This is one of the most special, distinct and amazing bottle of Pinot Noir we have produced.
This fermenter and the resulting barrels were the pet project for the winemaker, Jim Anderson, during the course of the 2015 harvest. The fruit comes from the Coury Clone block in Freedom Hill Vineyard. This section of the vineyard was planted in 2000 and the cuttings came from the 1972 section of Coury Clone at Hyland Vineyard. This fermenter was done with 100% whole cluster fermentation (the regular bottling of Coury Clone was 50% whole cluster) and unlike any other fermenter from the entirety of the vintage this was pigeaged twice per day rather than one time per day. These two distinct decisions about what to do with the fermentation and how to manage it led to this wine that is easily the most provocative wine we have ever produced. The wine takes on the incredibly complex aromatic nature of both the Coury Clone itself and the evocative nature of 100% whole cluster fermentations and the aromatics are simply unlike anything seen in the vast, vast majority of domestic Pinot Noirs. The extra pigeage per day also created a larger swath of tannins in the wine while also extracting a slightly greater level of fruit intensity giving this wine both an impossible interplay of drinkability of fruit and longevity of structure. It is an amazing and interesting Pinot Noir that we believe has the capacity to help define what can be done in the United States with Pinot Noir.
The wine received the highest score ever given to an American Pinot Noir by Vinous.com (the reviewer carries over from Steve Tanzer's International Wine Cellar) of 96 points.
96 cases bottled
Wine Specs
Appellation
Willamette Valley
Vineyard Designation
Freedom Hill