2019 Freedom Hill Vineyard Perspicacious Pinot Noir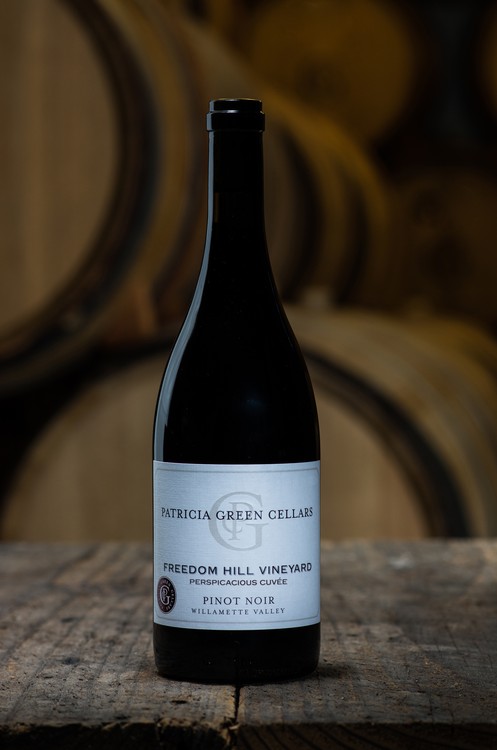 97 Points - Vinous
Dark magenta. A hypnotic bouquet evokes ripe red/blue fruits, incense, exotic spices, potpourri and botanical herbs. Stains the palate with finely etched Chambord, boysenberry, cola, candied lavender and spicecake flavors that deftly blend depth and energy. The floral and spice notes echo strongly on an extremely long, penetrating finish that's framed by, fine-grained, even tannins. All whole clusters and 25% new French oak.
-- Josh Raynolds
Winemaking and Notes: This is, quite simply, incredible Pinot Noir. This comes from one of the three Dijon 115 sections from which we get fruit. This one fermenter was done with 100% whole clusters. The cuvee was pigeaged two times each day for its seventeen day stay in fermenter. It was racked to four barrels, one new. We do quite a bit of 100% whole cluster fermentation these days and quite a lot of it comes from Freedom Hill Vineyard. The results are generally excellent and we love how the tannins change and give the wine a different aromatic quality, texture and flavor that highlights the nature of Pinot Noir.
Rarely we get this. It has only happened in two other vintages, 2014 and 2015. This is where the marriage of the whole clusters and the fruit and texture becomes sublime. Difficult to say exactly why or how it happens. Even in superstar vintages like 2016-2018 we did not see this distinct impact in any of the fermenters. And yet in 2019, a vintage where we generally did less whole cluster fermentation than has been the recent norm, here was this one fermenter that was clearly in the "Perspicacious Zone." The greatest vineyards in Burgundy tend to naturally have this ability to produce wines of incredible mass, density, delicacy, intensity, savoriness and power. The best sites in Oregon produce thrilling, amazing wines but rarely rise to the level of the top wines from Burgundy. We firmly believe the use of 100% whole clusters from the right blocks of the right vineyards can give certain wines that same sort of "thing" that makes the best wines of Burgundy some of the most sought-after and expensive wines on the planet. This wine super-focuses the dark and rich nature of Freedom Hill Vineyard into a tremendously complex and rich wine. The star of the show here though is how the thick tannic structure located entirely in the back of the wine pulls this wine back giving it great length and complexity. This is a special, special Pinot Noir that is as rare in its characteristics and quality as it is in its production level.
Wine Specs
Appellation
Willamette Valley
Vineyard Designation
Freedom Hill