2019 Weber Vineyard Pinot Noir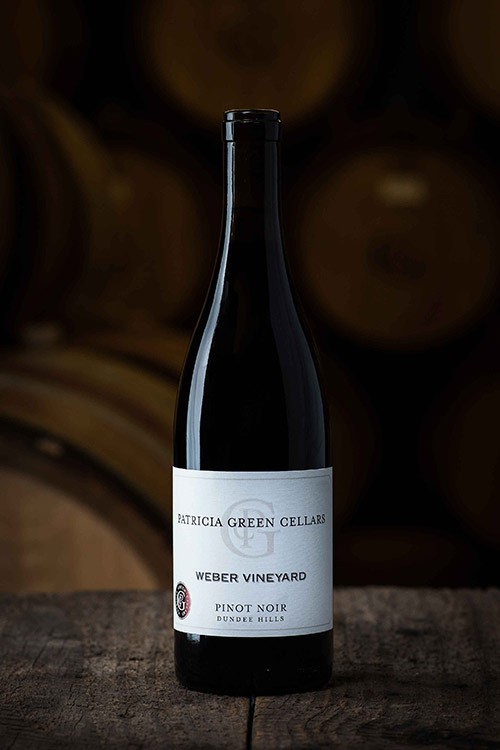 96 Points -Vinous
Glistening red. Suave, intensely perfumed aromas of Chambord, cherry cola, incense and star anise, along with a smoky mineral topnote. Appealingly sweet and focused on the palate, offering juicy red and blue fruit, floral pastille and exotic spice flavors that turn deeper as the wine opens up. Shows impressive depth of flavor but comes off lithe, with no rough edges and a strikingly long, seamless finish that repeats the red fruit and floral notes. 8% new oak.
-- Josh Raynolds
Winemaking and Notes: On top of that there simply aren't many 35+ year old vineyards in Oregon. Weber Vineyard is perhaps the purest Dundee Hills Pinot Noir that we have. In our fifteen years working with this vineyard it has routinely produced one of our top wines of the vintage (certainly in 2012 and 2016 one could make a strong argument for that being the case). 2019 will be said to be an uneven vintage in Oregon. There was rain at an odd time slightly after flowering and some rain just as harvest was beginning. This, at Weber Vineyard, led to a severe diminishing of the total crop. Our normal harvest is usually around 10 tons off of our block but we received less than 5 in 2019. It was also, due to the old vines carrying half of their normal weight, picked as much as two weeks earlier than we generally pick. The fruit was in fairly fragile condition so this was all destemmed as opposed to our normal relatively heavy whole cluster regimen for Weber Vineyard. All this sounds daunting in terms of the wine produced. However, this is a good lesson in trusting the greatness of the vineyard to be present even in times of less than ideal conditions. The resulting wine reminds me somewhat of the very excellent 2012 version from this vineyard which was the last vintage of Weber that was completely destemmed. The darker than expected fruit is rich in texture with the gliding, silky sort of tannins the Dundee Hills can produce. Our Webers over the past few vintages have had more structure and heft but what this wine lacks in that it makes up for with the sort of ethereal, rich, red fruit that Worden Hill Rd. vineyards can be known for. This may not have been a textbook way to grow fruit but it is a reminder that the special sites with which we work are indeed special for a reason. This is complete, age-worthy, unique all while still being a distinctly Worden Hill Rd. Pinot Noir. Beautiful wine for old vine Dundee Hills vineyard fans.
Location: Dundee Hills is a sub-appellation within the Willamette Valley located 28 miles southwest of Portland and 40 miles inland from the Pacific Ocean. Rising above the low, flat floors of the surrounding Willamette and Chehalem Valleys, the Dundee Hills offer spectacular views, including Mt. Hood and Mt. Jefferson's majestic snowy peaks.
Wine history: Winemaker David Lett planted the first Pinot noir in the Dundee Hills in 1965, naming it The Eyrie Vineyard. Soon after, Dick Erath, the Sokol Blosser family and other winemakers cleared south-facing slopes to plant many of Oregon's first vineyards. They whole-heartedly believed this area would one day be an important cool-climate wine-growing region. It didn't take long for the world to discover Dundee Hills and Oregon - after the relatively unknown Eyrie Pinot noir placed among the top three wines in the 1979 Gault-Millau French Wine Olympiades, beating out more famous French labels. Today, the area remains home to many of Oregon's modern pioneer winemakers who continue to successfully grow and make premium wine. The appellation was approved in November 2005.
Climate: The Dundee Hills area is effectively an island protected from great climatic variations by surrounding geographic features. The Coast Range to the west lessens the effects of the Pacific Ocean's heavy rains and windstorms, and causes a rain shadow over the Dundee Hills area, resulting in just 30 to 45 inches of annual precipitation, most of which falls in the winter months outside of the growing season. Because of their slope and elevation, Dundee Hills vineyards benefit from warmer nights and less frost and fog than the adjacent valley floors.
Soils: Dundee Hills is known for its rich, red volcanic Jory soil, which was formed from ancient volcanic basalt and consists of silt, clay and loam soils. They typically reach a depth of 4 to 6 feet and provide excellent drainage for superior quality wine grapes.
Topography: The Dundee Hills viticultural region consists of a single, continuous landmass that rises above the surrounding Willamette Valley floors and is defined by the 200-foot contour line to the AVA's highest peak of 1,067 feet. The area comprises a north-south spine with ridges, as well as small valleys on its east, south and west sides. Dundee Hills is part of a North Willamette Valley hill chain that developed as a result of intense volcanic activity and the collision of the Pacific and North American plates. Dundee Hills is typically volcanic over sedimentary sandstone.
Site Characteristics:This site is located in the bowl off of Worden Hill Rd. where it lies adjacent to vineyards such as Winderlea, Arcus and Maresh. Planted in 1978, Weber Vineyard was a purchased several years ago by long time Oregon vineyard manager Andy Humphrey. This is our eleventh year with the fruit from this vineyard. This may seem odd to folks who know the winery well since this is, technically, only the second bottling of Weber we have ever done. The vineyard was called Ana Vineyard for several years after Andy Humphrey purchased it in 2001. After the 2013 harvest the name of the vineyard was restored to its original name based upon the person (Art Weber) who planted it in the late 1970s. We buy from the original Pommard clone planting at the top of the east sloping hillside. Due to the geographic nature of Weber Vineyard (east facing in the bottom of a geological bowl that opens up only to the south) it is a cool vineyard (east face and inversion effect) in a warm area (south opening bowl that captures heat). This unique situation tends to lead to wines that have ripe flavors but not the associated ripe bio-chemical make-up and structural characteristics. There are few vineyards where one can pull off that trick.