2017 Olenik Vineyard, Wadensvil Block Pinot Noir 5 Litre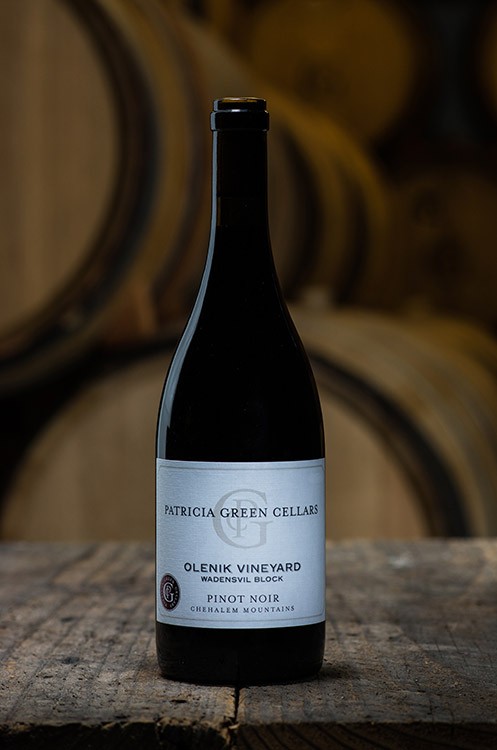 94 Points (Wine Enthusiast)
This clone seems to be a perfect fit in this location, yielding robust berry fruit further defined with sappy acids. Juicy citrus flavors underscore the berries, and despite its youth it's a tangy and quite appealing wine, with another decade of aging potential.
AVA: Chehalem Mountains
LOCATION: Kings Grade Rd.
ELEVATION: 375'
SOIL TYPE: Willakenzie
YEAR PLANTED: 1991
CLONAL MATERIAL: 100% Wadensvil
VINEYARD SIZE: 32-acre vineyard, ~2.7-acre PGC Wadensvil block
VINIFICATION: 2 open-top 1.5 ton fermenters. One fermenter containing 100% de-stemmed fruit, the other containing 60% whole cluster fruit.
PICKING DATE: October 5th
TONS/ACRE: 2.0
OWNER: John & Susan Olenik
PRODUCTION: 288 cases bottled
Winemaking and Notes: The combination of marine sedimentary soil and Wadensvil creates a nearly perfect intersection for Pinot Noir in Oregon. Wadensvil tends toward more elegant, high-toned and red-fruited wines while the sedimentary soil adds an element of structure and turns the wine distinctly toward a very mineral-driven mid-palate and finish. The ten barrels that make up this wine come equally from a fermentation that was done with 60% whole clusters and from a fermenter that was 100% de-stemmed. Despite the differences in the make-up of the fermentations the bins were both pigeaged 1x/day and pressed separately on the same day. The fruit that was fermented with 60% whole clusters emphasizes minerals, spices and back-palate structure all of which provide tension in the herb-laced red fruit. The de-stemmed barrels are a rush of sweet, feminine red fruit with a velvet-like texture. We've been using this combination for this particular bottling for the past couple of vintages in some form or another. The whole clusters give an incredible backbone to the wine that lends an austerity that benefits it not only down the road but in the here and now, allowing it to be the wine from the Chehalem Mountains that is the most elegant, graceful and refined of the bottlings. This wine is incredibly aromatic and floral but still allows for the back palate to be the guiding force. This is a sneaky, subtle wine that will playfully hint at grandiosity.
Wine Specs
Appellation
Chehalem Mountains
Vineyard Designation
Olenik
Wine Profile
Vineyard Notes
Wadensvil Block